It's important that we take care of our environment. Local infrastructure means we have many rubbish struggles – by reusing materials like plastic, we can improve our village. Read more to find out about our goals.
Educate villagers on sustainability & our planet's health.
Generate funding for our village & school foundation.
Stop the burning of organic & plastic waste.
Bright Course harvest wastes and turns it into recyclable, resell-able, reusable products. From plastic made hand-bags, to handy-crafts and compost – we're trying to turn this community into a vibrant business hub of sustainability.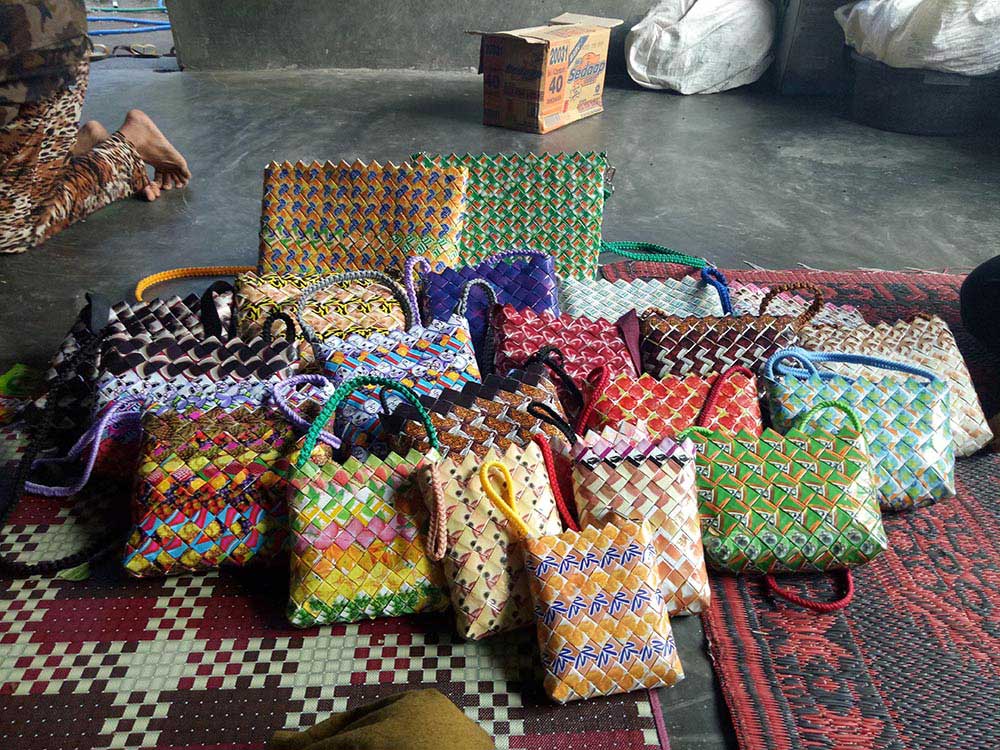 Plastic Hand-Bags & Products
Bright Course has brought recycling to the village. Unlike western countries we do not have rubbish collection or recycling centers. The first of our efforts is re-using the plastic we use so much; coffee bags, milk bags, crisps packets and other types of thick plastics wrappers. 
We have operated classes to teach locals to make products from this waste, which in turn creates basic jobs and additional income. They can now make, and we can teach visitors to make; hand bags, phone wallets and sleeves, small purses, camera bags and laptop cases!
Handy-Crafts & Souvenir Items
Similar to our plastic operation, we use wood and bamboo that would otherwise go to waste to create unique crafts and souvenirs. It takes a lot of skill to create using basic tools and weaving.
We are able to teach you to make; key chains, small toys, tissue boxes, ashtrays, lamps and miniature house ornaments. Perfect gifts for your family and friends back home.
Compost & Fertiliser
We use a specially made barrel to create natural compost and fertiliser. The process of composting is very simple – we take all organic waste and put it inside; leaves, vegetable waste, coconut skins, banana peels and so much more. We then add our secret sauce, a special recipe turned into 'juice' which we spray into the barrel daily.
From one full barrel the process takes from 2 weeks to 3 months depending on the organic waste inside, which yields roughly 25 litres of fertiliser spray and up to 100 kilograms of compost. We sell this to locals at a cheaper rate than their current chemical fertilisers which results in faster growing, healthier, larger crops.
Eco-Bricks from Plastic Bottles
Decorations, Plant Pots, Chairs, Tables, Fences, Gates, Walls and more.
Our newest of all the projects, we create eco-bricks. These are bricks made from plastic bottles stuffed and packed tightly with other plastic waste; ice cream wrappers, crisp packets, soap wrappers, toy packaging and anything else that is commonly dropped on the ground! Here in the picture you can see our first ever chair, a small stool which has already been put to very good use. 
We have partnered with Go Green, a plastic waste company in Mataram who teach us how to make more useful items and structures. In the future, we will craft; chairs and tables for students, walls, fences and gates for buildings and classrooms, plant-pots and beautiful decorations – especially for selfie spots!
Here at Bright Course we're very excited to reuse planet destroying plastics to protect our mother nature, the wildlife and furthermore save money on expensive materials which we replace with plastics.
Gallery of The Rubbish Bank